RGF Executive Search Headhunters
Specialized in:

Headhunting & HR Services, Freight/Logistics

Specialized in:

FMCG - Household / Personal Care, Legal/Marketing Research/Consulting, Retail/Wholesale/Distributor

Specialized in:

Headhunting & HR Services, Apparel/Footwear, Industrial/Consumer Manufacturing

Specialized in:

Headhunting & HR Services

Specialized in:

Headhunting & HR Services

Specialized in:

Industrial/Consumer Manufacturing, Headhunting & HR Services

Location:

Ha Noi, Ho Chi Minh

Specialized in:

Retail/Wholesale/Distributor, Freight/Logistics, Fashion/Luxury Goods & Jewelry

Location:

Ho Chi Minh, Ha Noi

Specialized in:

Apparel/Footwear, Fashion/Luxury Goods & Jewelry, Advertising/PR, Banking

Location:

Ha Noi, Ho Chi Minh

Specialized in:

Headhunting & HR Services

Specialized in:

Headhunting & HR Services

Specialized in:

Headhunting & HR Services

Specialized in:

Banking, Finance/Investment

Location:

Ha Noi, Ho Chi Minh

Specialized in:

Advertising/PR, FMCG - Household / Personal Care, Legal/Marketing Research/Consulting

Location:

Ha Noi, Ho Chi Minh

Specialized in:

Headhunting & HR Services, Advertising/PR

Location:

Ha Noi, Ho Chi Minh

Specialized in:

Advertising/PR, FMCG - Household / Personal Care, Multi-categories/Other

Location:

Ha Noi, Ho Chi Minh

Specialized in:

Advertising/PR, Legal/Marketing Research/Consulting, Education/Training

Location:

Ha Noi, Ho Chi Minh

Specialized in:

Headhunting & HR Services, IT - Hardware/Networking, IT - Software

Specialized in:

Headhunting & HR Services

Specialized in:

Headhunting & HR Services

Specialized in:

Internet/Online Media, IT - Hardware/Networking, IT - Software

Specialized in:

Electrical/Electronics/Components, Mechanical

Specialized in:

Airlines/Tourism/Hotel, Customer Service, Human Resources

Specialized in:

Banking, Finance/Investment, Insurance, Securities & Trading
Why RGF Executive Search?
Attracting and retaining high-performing leaders is critical for any organization.  RGF Executive Search Vietnam offer clients tailored recruiting solutions based on their unique needs, with the same goal in mind - the successful introduction of high-quality candidates who meet or exceed expectations. 
We provide the following services:
Retained Search
Exclusive Search
Contingency Search
and specialize in:
Accounting & Finance

Advertising

Banking & Financial Services

Consumer (Durables / Electronics)

Engineering

FMCG

Human Resources

Industrial & Manufacturing

IT & Telecommunications

Legal

Retail

Sales & Marketing

Supply Chain, Logistics & Procurement
Ms. Tran Thi The Thanh
HR Manager
Mead Johnson Nutrition
"I would like to write this note to officially thank you for your great cooperation during our search for the position of Manager - Digital Marketing & Brand Equity at Mead Johnson Nutrition (Vietnam).
I highly appreciate your well structured approaches in all steps and your deep assessment on the candidates recommended.  I find your passion and sincere care in how you worked to have both the company and the candidates needs met.  As shared, it is not about the best candidates having been identified but more important is the most fit ones who will be able to perform to their highest potential in the positions.  You have worked to ensure the candidates strengths are the desired competencies that the company looks for and the job requirements fit well to the candidates interests and career aspiration that will result in the candidates' success when being appointed.
Again, thank you for your great work and I look forward to working closely with you in our future needs.  I wish you a year of 2013 being filled with great health, happiness and continuous success." 
--------------------------------------------------------------------------------------------------------------------------------------------------------------------------------------
Mrs. Nguyen Ngoc My
HR Manager
Lap Sun International Co.Ltd

"I  would like to express my sincere gratitude to RGF Executive Search Viet Nam. You supported such an alder aged candidate like to have the chance coming back to my favorite job which is a dream come true!
You're professional and very enthusiastic to all candidates. I Wish RGF to be more and more successful in the future and continuously bring great opportunities for every job-seeker as always." 
--------------------------------------------------------------------------------------------------------------------------------------------------------------------------------------

Ms. Tran Nguyen Truc Giang
HR Manager
Wall street Institute School of English


"I have been impressed by the professional service and expediency proven by the fact that  RGF fulfilled their task of finding, screening, interviewing and presenting suitable candidates for the positions of Wall Street English Vietnam.

RGF is one of the highest levels of service and has remained professional throughout our working relationship, I was impressed with the consultant's ability to locate and speak with candidates who fitted the brief that was provided professional throughout the whole process.
I would certainly feel confident in using your company again and would have no hesitation in recommending you."
  --------------------------------------------------------------------------------------------------------------------------------------------------------------------------------------

Mr. Guy Lacombe
CEO
Happy Trend International Ltd.
"We found your service quality corresponding to Western standards in headhunt and recruitment service. Hence, we are strongly confident when considering to build up long-term relationship with your company. Your service in terms of records management is excellent, the quality of candidates is assured to be in the upscale. Moreover, your organization timing suited to our requirements in terms of availability. Defined positions is very well done. RGF's consultant is just simply effective, gifted, attentive by providing professional service."

At RGF, we believe in commitment and long-term partnerships
Our operation is aligned with our commitment to understand your business, industry and local operations alongside with the challenges you are facing. Our number one goal is to build and maintain a personalized, professional and long-term partnership that helps us understand your needs and in turn, provide a consistent stream of high-caliber talent who add values and drive your business forward.
Here are some of the reasons why the world's leading companies trust us:
Global brand strength
With over 57 years in the business, we have grown both organically and via acquisition globally, having 47 offices in 27 cities to support your regional recruitment needs.
Expert knowledge and industry know-how
We offer unparalleled depth of knowledge and expertise, not just only by understanding your specific needs but also unspoken traits of your industry. Our consultants specialize in specific practice areas and industries so they understand the skills and experience of the candidates you are looking for.
Commitment to excellence
Being famous for being a trusted partner who provides great customer services and experiences, our current business comes from personal referrals and repeated clients, reflecting our strong commitment to high quality and professional services.
Proven track records
Together with Bó Le Associates, CDS, RGF Executive Search make up the largest executive search provider in Asia. We have built a database of over 465,000* executives across Asia and have placed over 20,000* senior professionals. (*As of 31 March 2016)
Jon Whitehead

Managing Director - RGF Executive Search Vietnam
Jon heads RGF Executive Search Vietnam and takes care of the overall recruitment services at both Ho Chi Minh and Hanoi office across all disciplines.  He had a successful track record in the recruitment industry with more than ten years' international working experience in Amsterdam, Melbourne, Hong Kong and Vietnam.
Prior to pursuing his career in the recruitment industry, he worked several years as both an Account Manager and Account Director for an advertising agency serving SME and large retail clients on key campaigns. He first started his recruitment career at Michael Page in Amsterdam focusing predominately on Finance sector before moving to Australia where he diversified to focus more on Sales and Marketing FMCG and Supply Chain, Procurement and Logistics roles. He then moved to Hong Kong to gain further experience within the APAC region after two successful year working in Australia.
In 2013, Jon was promoted and moved to Vietnam to oversee overall Ho Chi Minh office of Robert Walters where he led the specialist recruitment business focusing on recruiting permanent executive positions in various sectors namely accounting and finance, banking and financial services, engineering, human resources, information technology, legal, sales & marketing, supply chain and healthcare.
Graduated from University of Manchester in the UK, Jon hold an Honor Bachelor of Arts Degree in Retail Marketing from the Manchester Business School.
-------------------------------------------------------------------------------------------------------------------------------------------------------------------------------------------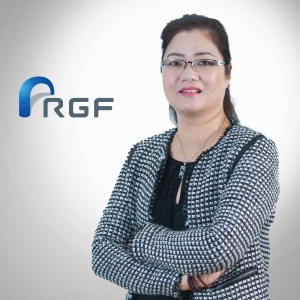 Huong Nguyen

Partner - RGF Executive Search Vietnam - HCMC Office

Huong joined Bó Lè Associates in 2006 when the Ho Chi Minh office was launched. She assisted in setting up and driving growth of the office. Huong specializes in handling senior level assignments and she has worked with clients in different industries including logistics, FMCG, banking and finance, industrial, manufacturing and pharmaceutical.
Since January 2015, Bo Le and RGF merging in Viet Nam and in the region, Huong continues to join the merged company in Viet Nam, which is legally registered as RGF Viet Nam as Partner. Huong is continuing to handle the client relationships and senior level assignments in diverse sectors including FMCG, Industrial, Pharmaceutical, Banking And Finance and Manufacturing.
Prior to joining Bó Lè and RGF, Huong gained extensive experience in sales and marketing, first working for TNT, a Dutch based company, where she rose through the ranks to finally become the Country Sales, Marketing and Commercial Director. Afterwards, she worked as a consultant for a freight forwarder company.
Huong is a dynamic and innovative professional with strong leadership skill. Huong received her B.A. in English from the Hue Teacher Pedagogy and a degree later on in sales management. She is fluent in both English and Vietnamese.
RGF Executive Search - Recent Updates
hZWXnZ1nmG2cl5WExaBkb-GkoGOYcFLJpMWoq4DHo5ifmatXc6xsmWJrUr98qKellJ--lqXRoJjSsZOnw9HQvafTz9bFntqQxc_OtcnWoKjPpdWk31hr2XKcb1qe26OXp52oo1p0pZ9haGqFmZmmnqmc1pyb13ymxZydnsmHn9SempyI1JHTmtHWhJ7FoGNv4aSgY5dwUtqZ1pydrMWWqZyYW3Chc2WbYGNomnFtYmZsY5ZqbpZkctdyZWGch8XW2MzR2MOR1qLIhZ3MnplnZZhpnWudZmGfaJhscGqacLGw